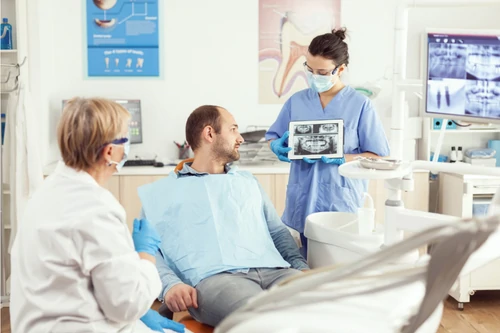 Dental x-ray technology has improved over time, enabling specialists to diagnose patients' conditions with the highest precision and knowledge. Their numerous clinical applications make panoramic radiographs (x-rays) increasingly used in dental therapy. It's crucial that you comprehend what a panoramic radiograph is and how it might help your treatment if you've been told to have one taken during your dental appointment.
A panoramic radiograph produces an image of the entire mouth. The dentist can see the position of the patient's natural teeth as well as the shape of the jaw by looking at this photograph. It is helpful to provide the dentist with a complete view of the patient's mouth on the initial visit so that the dentist may assess what has already been done to the patient's teeth as well as what needs to be done. As other forms of x-rays cannot penetrate as deeply into the rear of the mouth to offer a clear image, panoramic radiographs are frequently utilized to evaluate the location of the wisdom teeth.
You can anticipate a brief, painless, and easy procedure if a panoramic radiograph has been advised for you. Before requesting you to enter the x-ray machine, the x-ray technician will first ask you to take off all jewelry and detachable dental prosthesis. Then they will check that your head is positioned equally before leaving the room and snapping the picture. The machine will turn around your head for about a minute before the technician comes in and helps you go.
Smithville Dental is pleased to provide services for panoramic radiographs. Call us at 512-237-4420 for additional details or to make an appointment at our Dental Clinic in Smithville, TX.