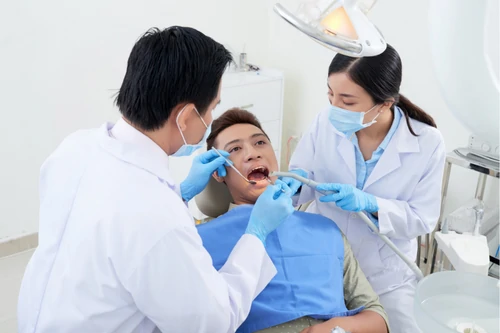 Attending your regular dental checkups is crucial since it is at these appointments that your dependable dental professionals can determine whether you are preserving the healthiest smile possible. While many people choose to postpone regular dental checkups and cleanings, routine care is essential to keeping a healthy and happy smile. These visits are meant to protect existing dental work in the mouth while also preventing decay or damage to the teeth and gums in the future.
It has been demonstrated that your body's overall health strongly correlates with the condition of your teeth and gums, thus it is imperative to make sure you are doing everything in your power to maintain the healthiest possible physique. At Smithville Dental, we would be pleased to assist you in doing that.
You can anticipate having radiographs (x-rays) taken of your teeth during your normal dental checkup in our Smithville, Texas, office to make sure there isn't any damage or decay that can't be seen with the naked eye. The next step is a comprehensive clinical evaluation by Dr. Patel, Dentist in Smithville, Tx.
You can anticipate a nice and peaceful session in the chair when it's time for your regular cleaning. Our trained hygienist will remove all plaque and tartar from your teeth, leaving you with a polished, lovely, and clean smile.
You can put your faith in our hardworking and compassionate team at Smithville Dental to take the best possible care of your dental health. Call us or visit our Dental Clinic in Smithville, Tx right away!